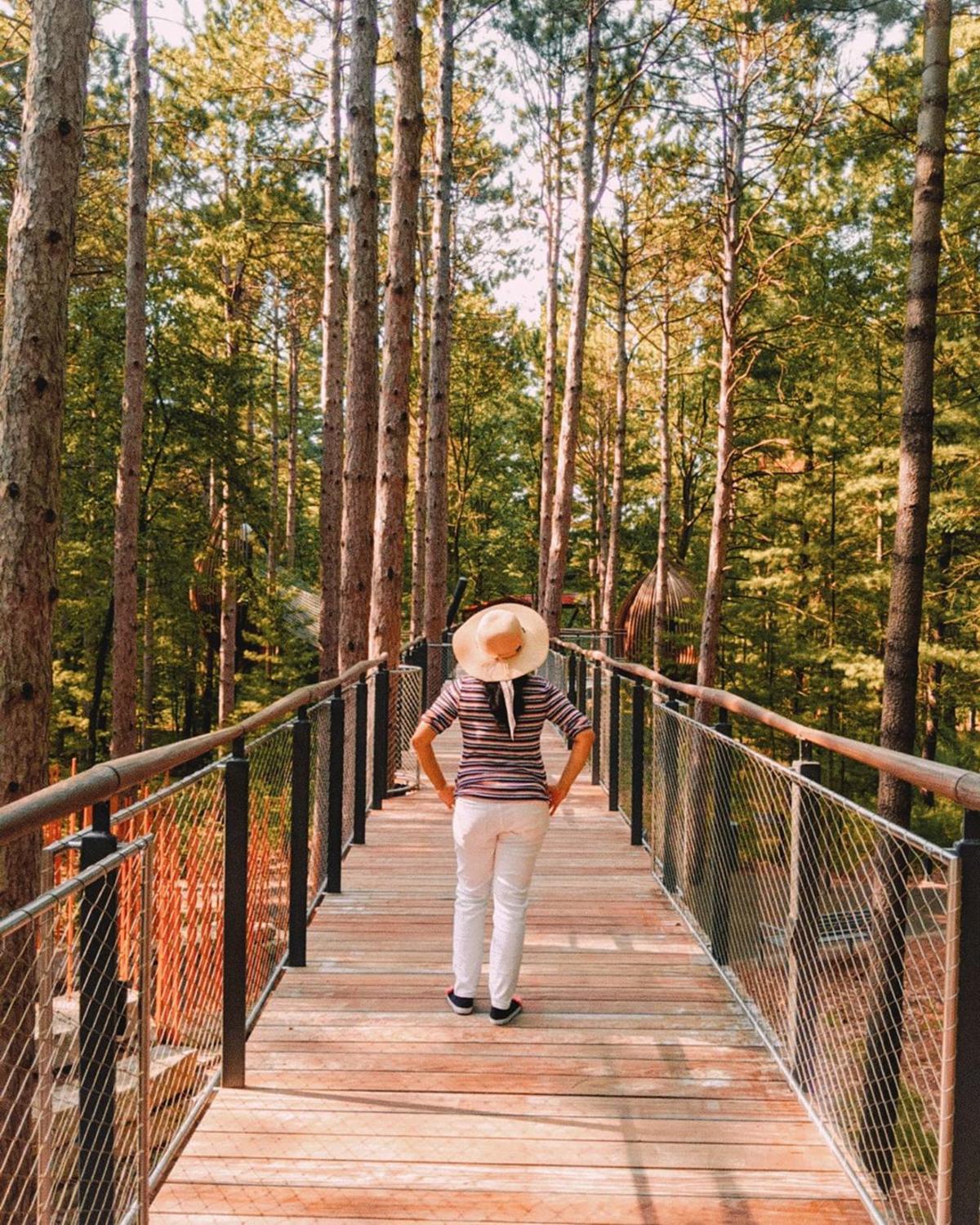 Photo: Canopy Walk at Whiting Forest of Dow Gardens by @nrupalikulkarni
If all autumn gave us was colorful leaves, crisp, cool sweater weather, and a few pumpkin spice lattes — that'd be more than enough. But, here in Pure Michigan, fall's cozy goodness just keeps unfolding from there!
Wine tasting boat rides through a tunnel of trees, ecotours within 10,000 acres of awesome wilderness, tall ship cruises with donuts and cider on deck — and a canopy walk where you can color peep four stories high in the forest? Come fall, they're all here — and you need only get to the Great Lakes Bay to enjoy!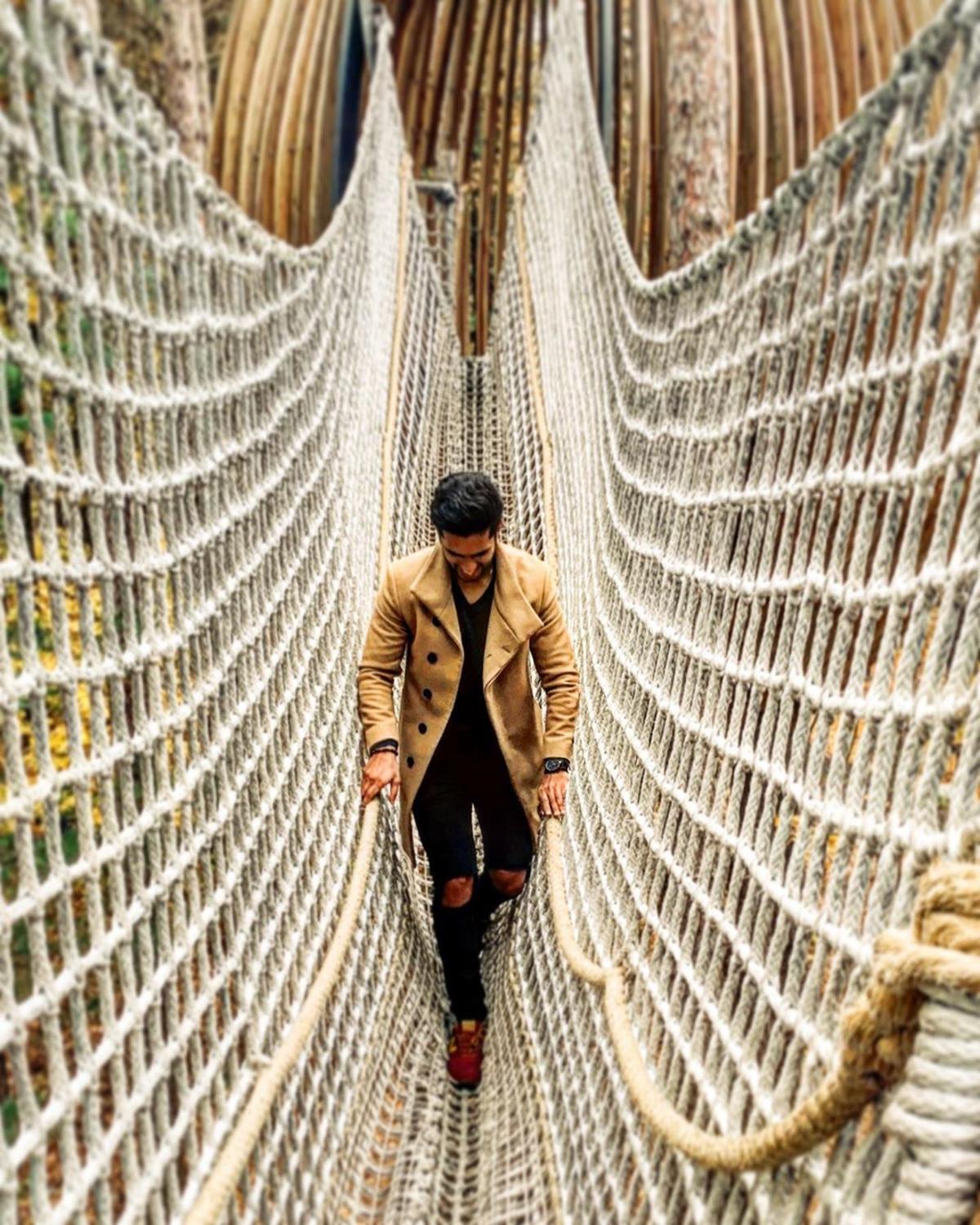 Photo: Canopy Walk at Whiting Forest of Dow Gardens by @the_winbros
---
Start planning your fall trip to Michigan (bonus: built-in color tour on the drive!) with over a dozen of our favorite things to do this season:
---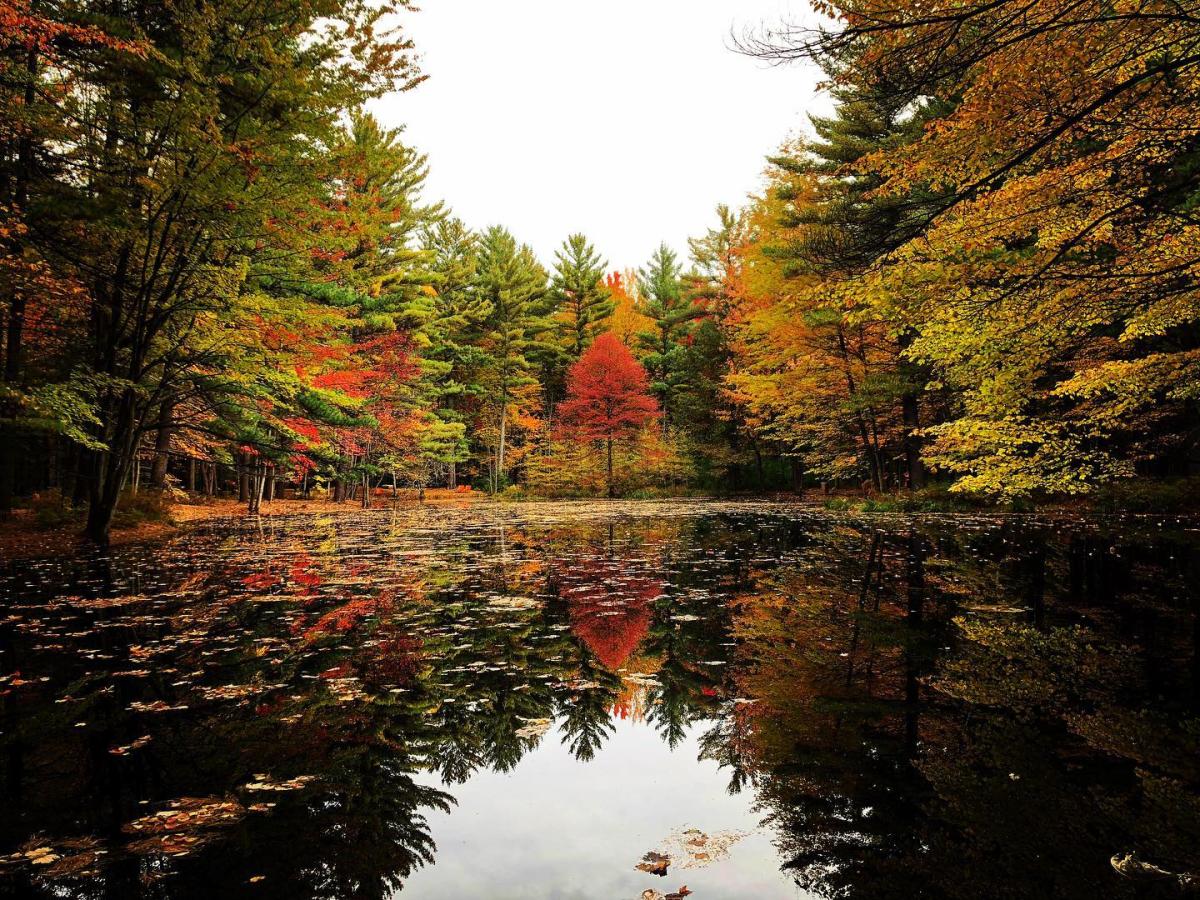 Photo: Canopy Walk at Whiting Forest of Dow Gardens by @michigan_made98
Eyeing the foliage from high in the treetops or (literally) sailing right through on an autumn color cruise — these top places to see fall color go way beyond watching through a car window!
From a canopy walk that stretches four stories up in the forest to an aerial park where you can zipline through the trees — these top outdoor attractions are all must-do's while you're here.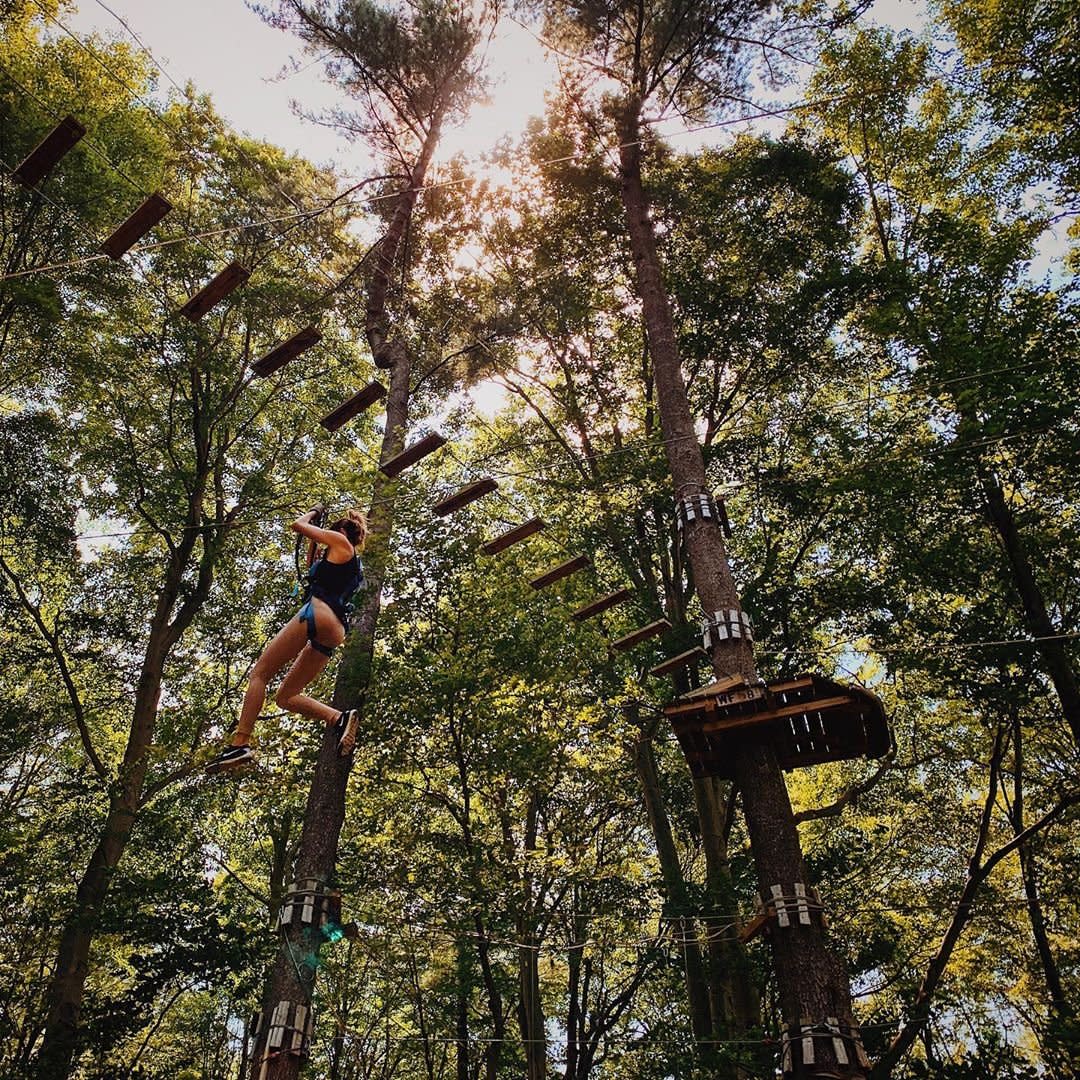 Photo: Frankenmuth Aerial Park by @ashsmithphoto
There are tons of great places in Michigan to see fall color on the water. But seeing it from a tall ship deck while you snack on fresh donuts and sip warm apple cider? That's a fall treat you'll only find with BaySail! Get tickets to an Autumn Color Tour River Cruise on the Appledore this October and enjoy.
"A forest like no other" — and home to the longest canopy walk in the country — Whiting Forest of Dow Gardens is 54 acres of natural wonder, drenched in fall color. Woodlands and ponds, meadows and streams, and an orchard dotted with heirloom apple trees — experience it all on an elevated walk that soars four stories high above the forest floor!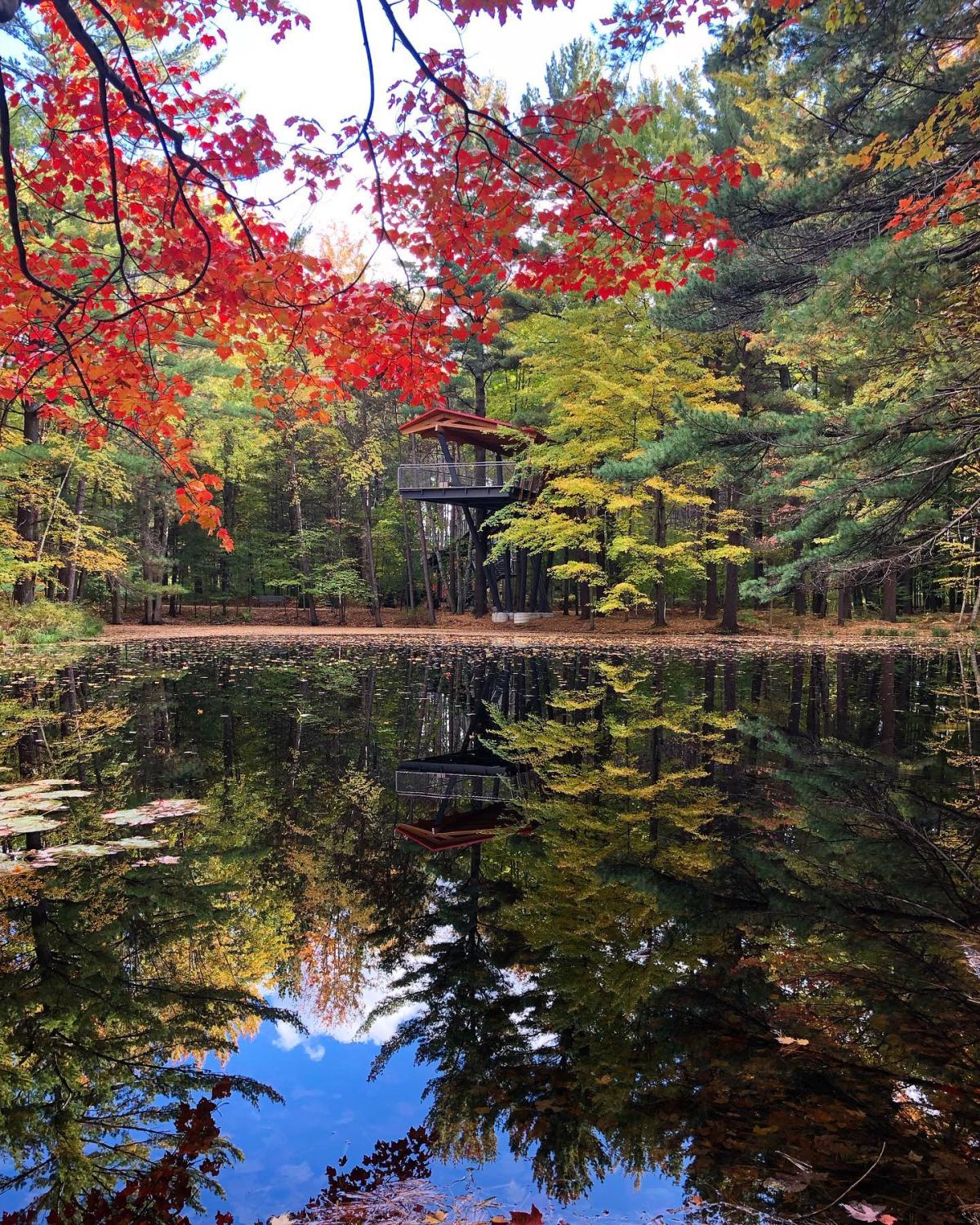 Photo: Canopy Walk at Whiting Forest of Dow Gardens by @travelingmichigan
The Shiawassee National Wildlife Refuge is 10,000 acres of unspoiled nature — and up-close wildlife encounters of the safe kind — whether you'll boat through freely with Johnny Panther Quests, or wind along the 6.5-mile Wildlife Drive! Or, in Midland, explore Chippewa Nature Center — with 19 miles of tree-lined trails and an Arboretum home to 100+ species of Michigan-native trees & shrubs.
*Note: some farms & orchards not open until mid- to late-September
There's something special about biting into an apple while you stand on the ground where it was grown. Or picking out that just-right carving pumpkin straight from the patch. Everything else? Cinnamon-sugared hands from a scratch-made cider donut, colorful leaves crunching under boots? They're just the added touches to an already-perfect fall day spent on one of our favorite local orchards or farms!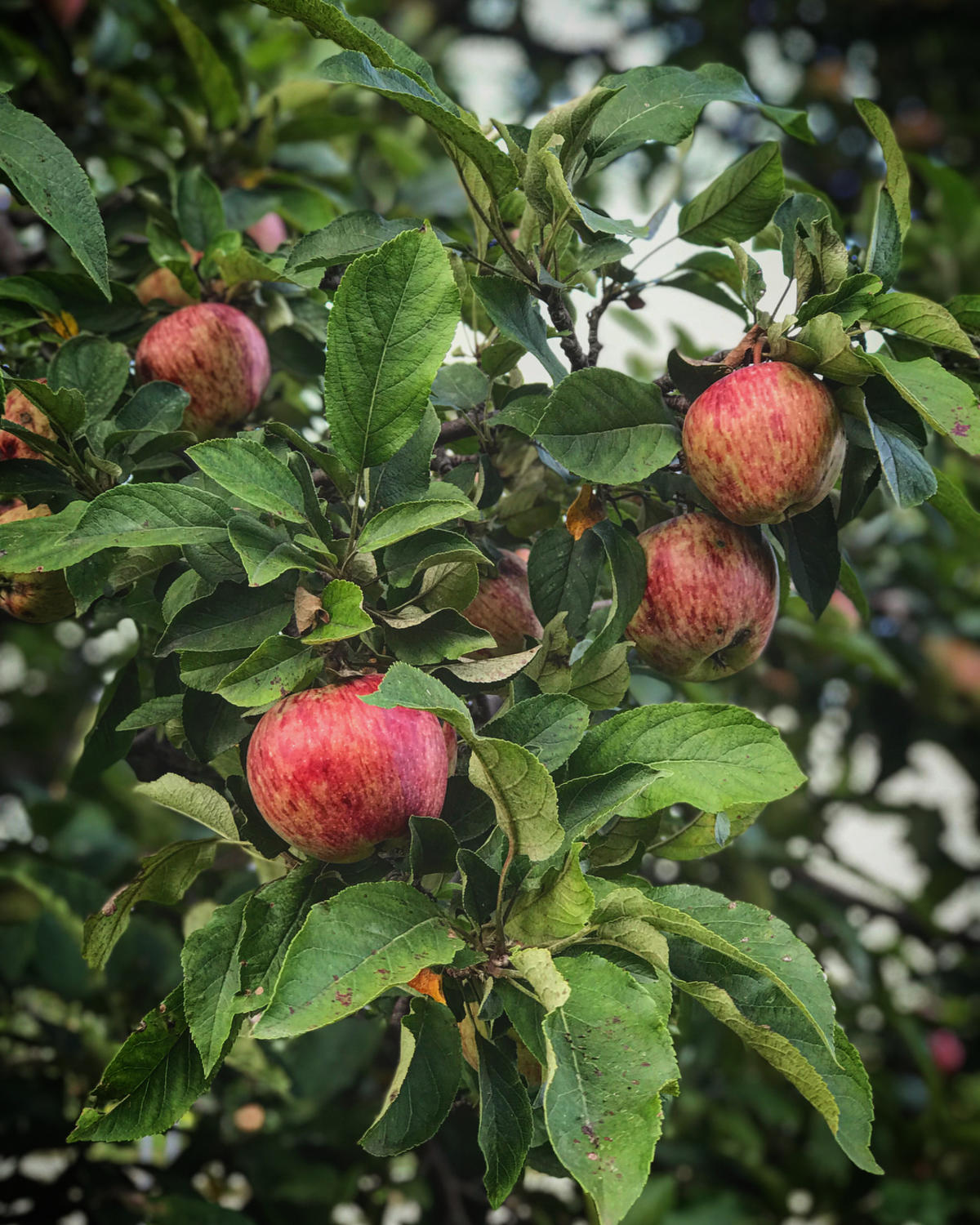 Photo: Bayne's Apple Valley Farm by @rachelwazhere
For some laid-back leaf peeping (with a splash of pinot) — or an hour-long boat ride through the autumn trees, paired with Michigan wines and scratch-made chocolates — find Frankenmuth FunShips and instantly unwind.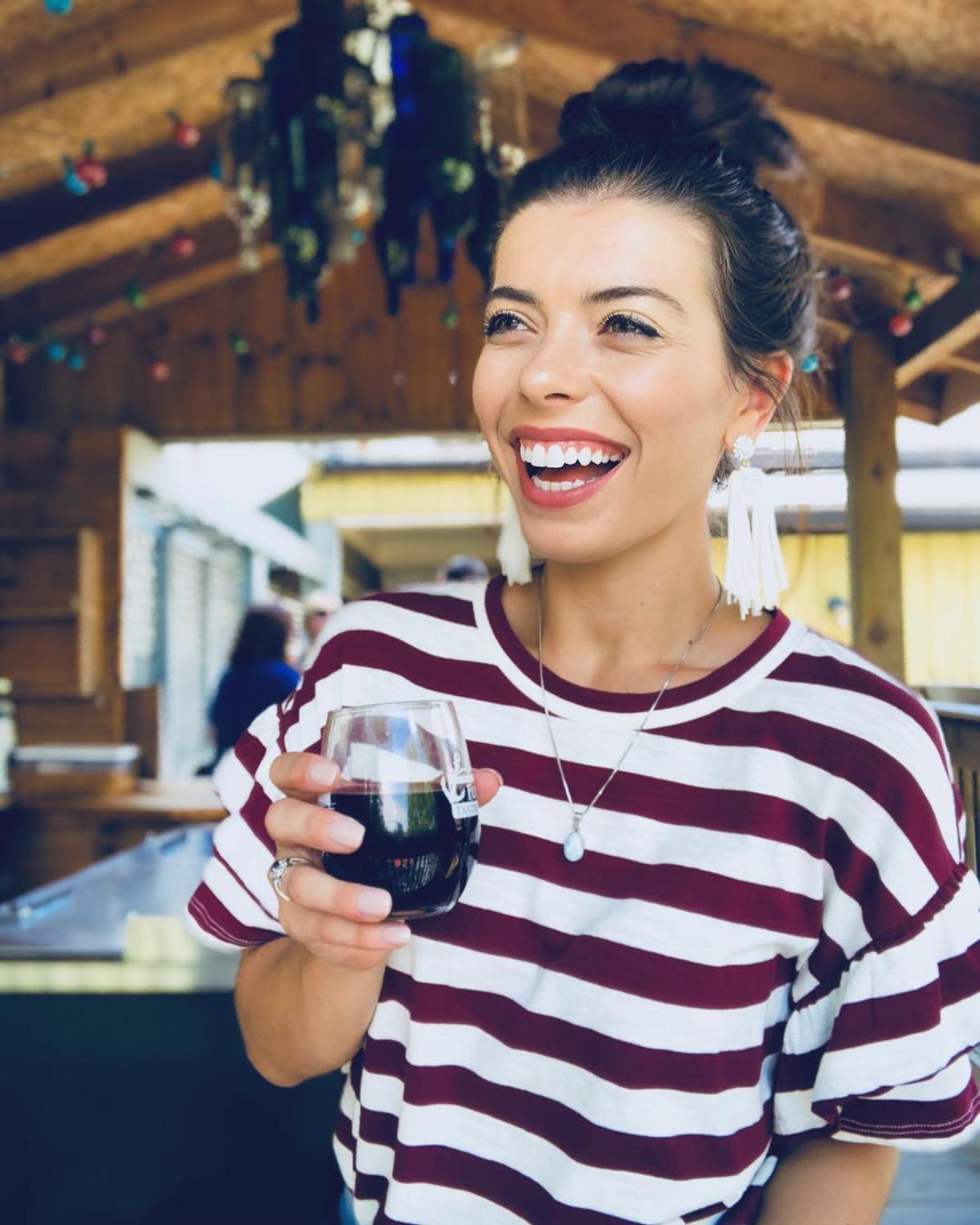 Photo: Frankenmuth FunShips by @brittanybydesign_
Ambers, red ryes, goldens, and browns. Rich porters and creamy stouts. The brews here are almost as colorful as the views! And for a nice, long sampling session out in the autumn air? Give these outdoor beer gardens a try: Drydock Beer Garden in Bay City, Larkin Beer Garden in Midland, and Schnitzelbank Bier Garten in Frankenmuth. All open through September or longer, each has its perks — some with local food trucks, others live music. And if you miss the boat on beer garden season, try one of our breweries or taprooms instead!
On those rare, not-too-cool fall afternoons when you can still get out on the water? Do. Spend them here on peaceful, sparkling ones, and let one of our local kayak rental shops lend you your ride — maybe even your guide!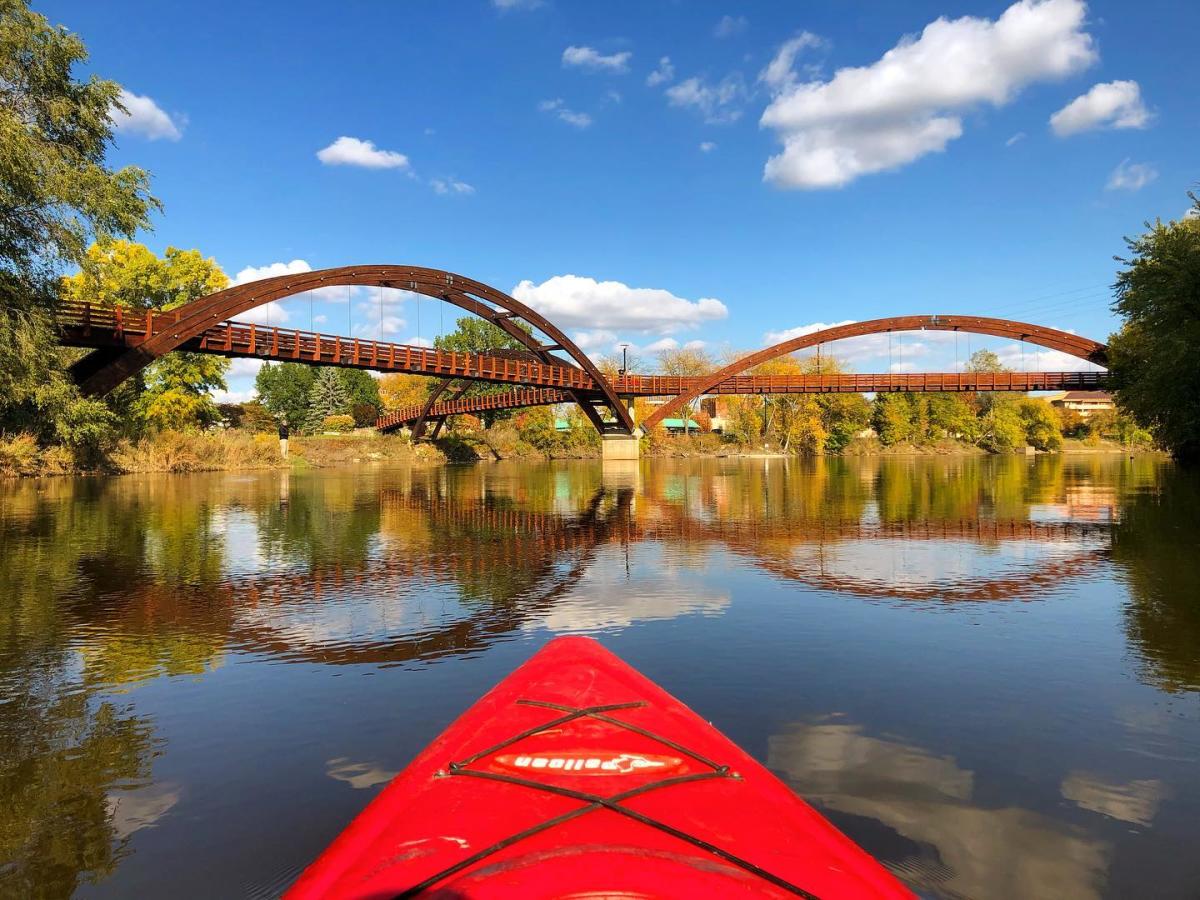 Photo: Kayaking near the Tridge in Midland by @puremichiganguy
Our Great Lakes Bay Regional Trail is a stunner in all four seasons. But in fall? It'll leave you speechless. Find your own favorite miles (there are almost 100 to choose from), or rent bikes from Ray's or Jack's for a smooth ride under the colorful canopy. The Saginaw Bay Birding Trail is 142 miles of remarkable birdwatching, too, if you'd rather spot bald eagles and egrets than autumn leaves!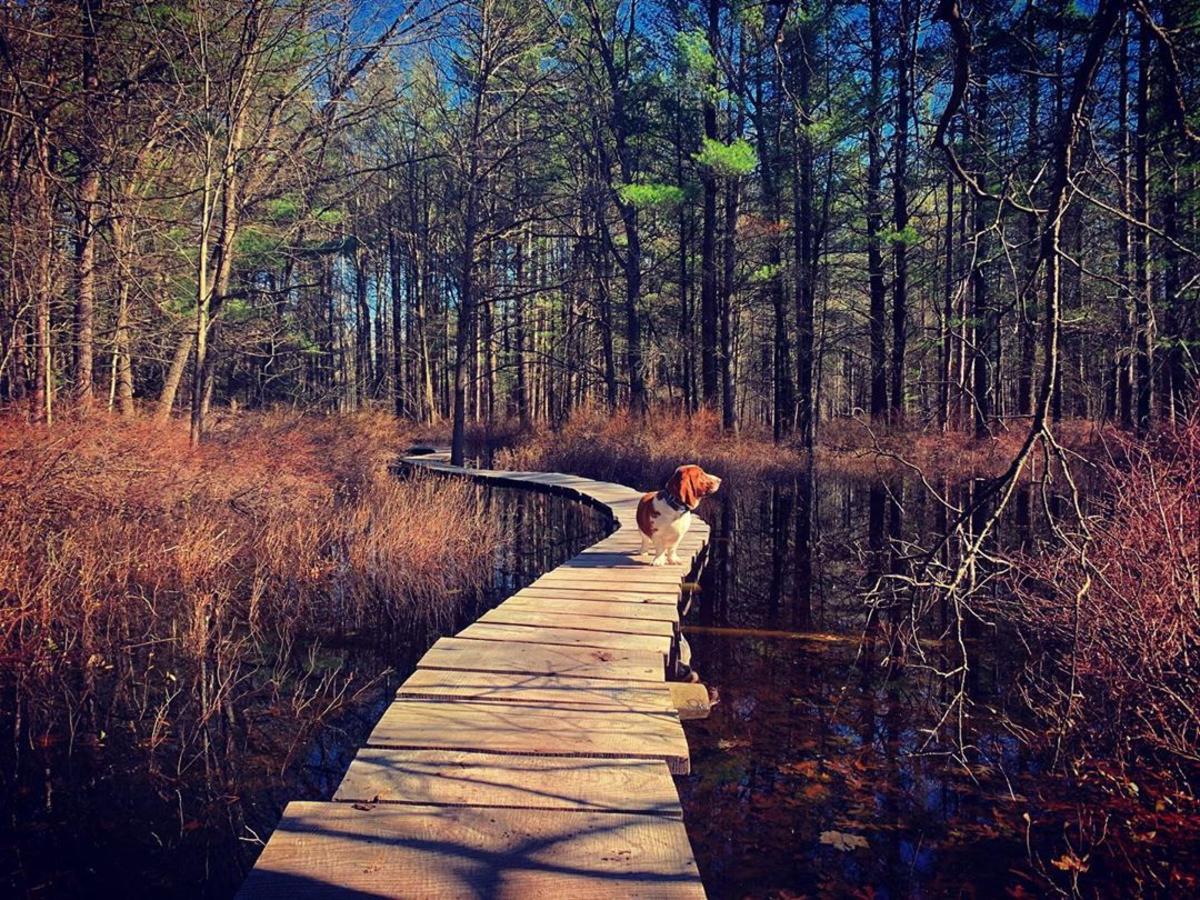 Photo: Midland City Forest by @frankthebasset
For colorful rides through two beautiful downtowns (where you can bring your favorite adult beverages onboard) book the group trolley bikes of PedAle Trolley in Frankenmuth or Sunrise Pedal Trolley in Bay City!
Just because it's autumn doesn't mean you can't dine like it's 75 & sunny! Find a spot on one of our favorite outdoor patios — where sun umbrellas and sangria specials get traded in for toasty heat lamps come fall. And blame it on that cozy-cool ambiance if you end up staying for a few cocktails... maybe a smoked Old Fashioned by the outdoor firebar?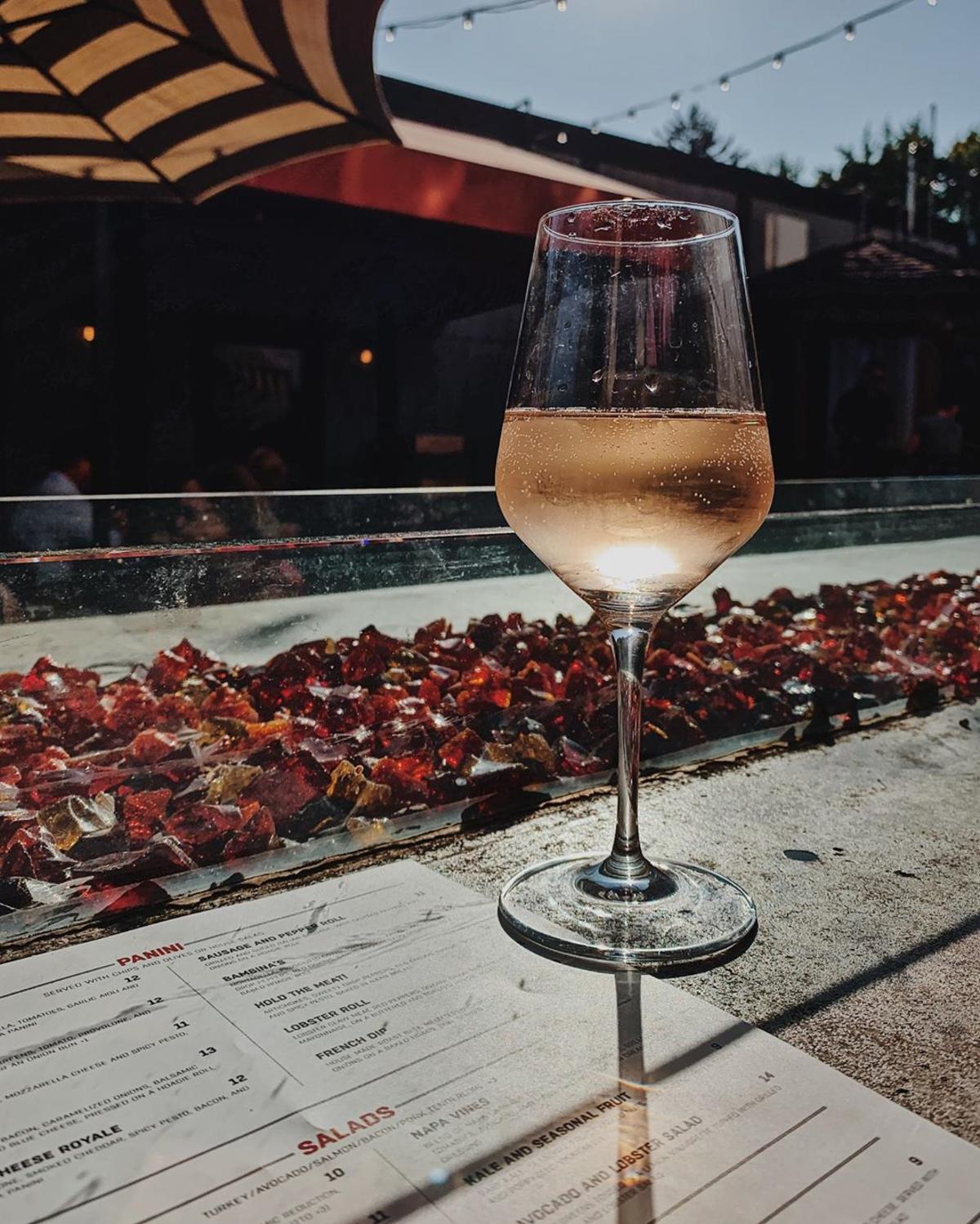 Photo: Prost! Wine Bar & Charcuterie by @ashhhleysmith
When Saginaw Bay's world-class walleye start showing up in lower parts of the Saginaw River come October, locals like to say the "run is on". Get in on the autumn bite with these fall walleye fishing tactics from local anglers, or book a charter fishing excursion so you can troll for trophies with the ones who know these waters best!
From a roaster named Michigan's best by Food & Wine to a shop with hand-poured coffee, house-made syrups, and a cozy outdoor igloo — our coffee houses are as original as the stuff in your cup. Try seasonal favorites from our local shops (like a smoked rosemary-caramel mocha or a spiced turmeric ginger latte), then find a nearby natural outdoor space where you can sip and soak it all in.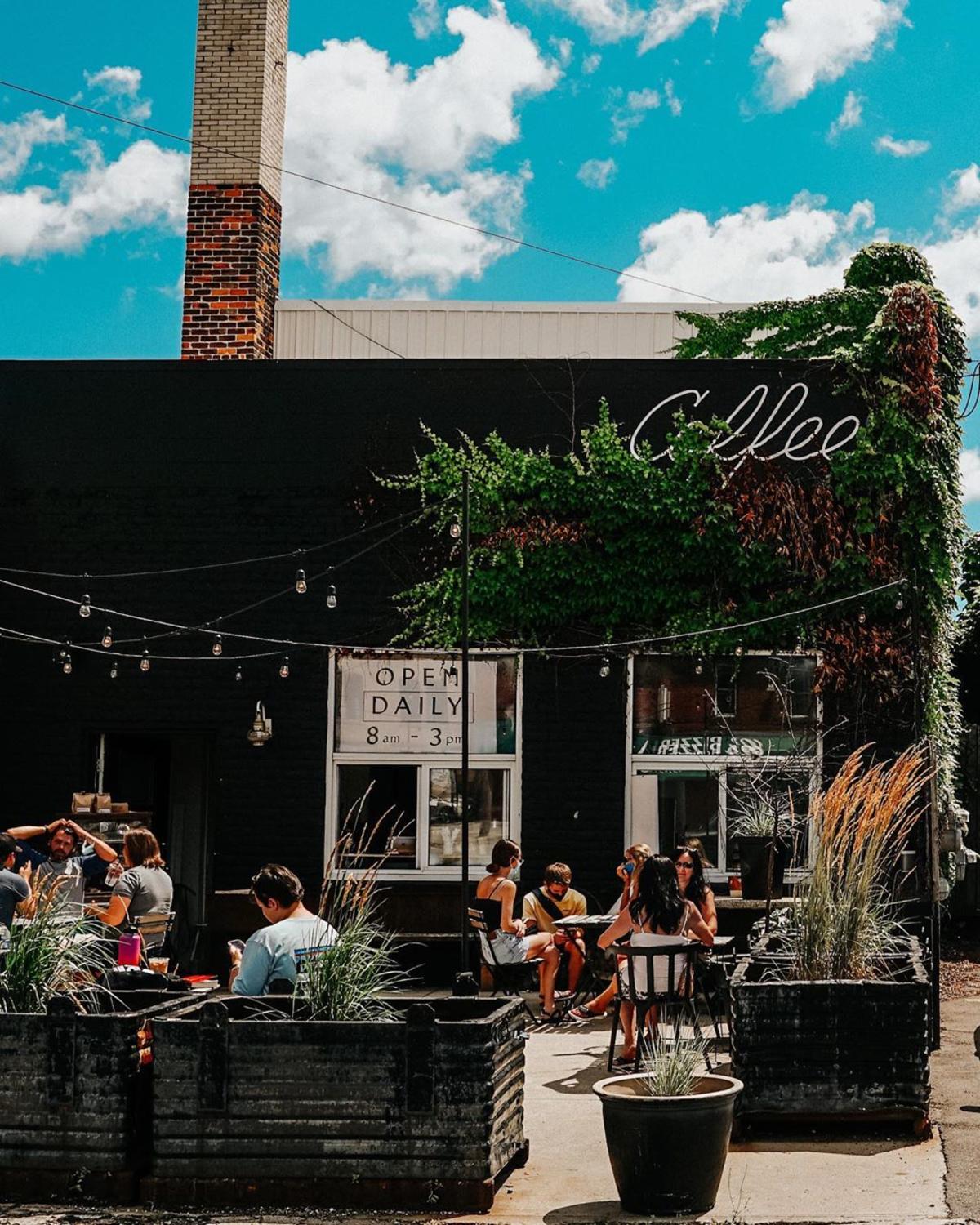 Photo: Harless + Hugh Coffee by @kenzicopter
---
COVID-19 Update:
As we welcome you back, we'll be doing our best to keep you in the loop on what's open & closed in the Great Lakes Bay Region. Just look for the orange banners below on our partner listings as you start planning for your next trip!


While we all navigate this new normal, some experiences may be slightly different, and some businesses may only be partially reopened. Please check with the individual businesses for their reopening status, new hours of operation, and updated policies before visiting!
---