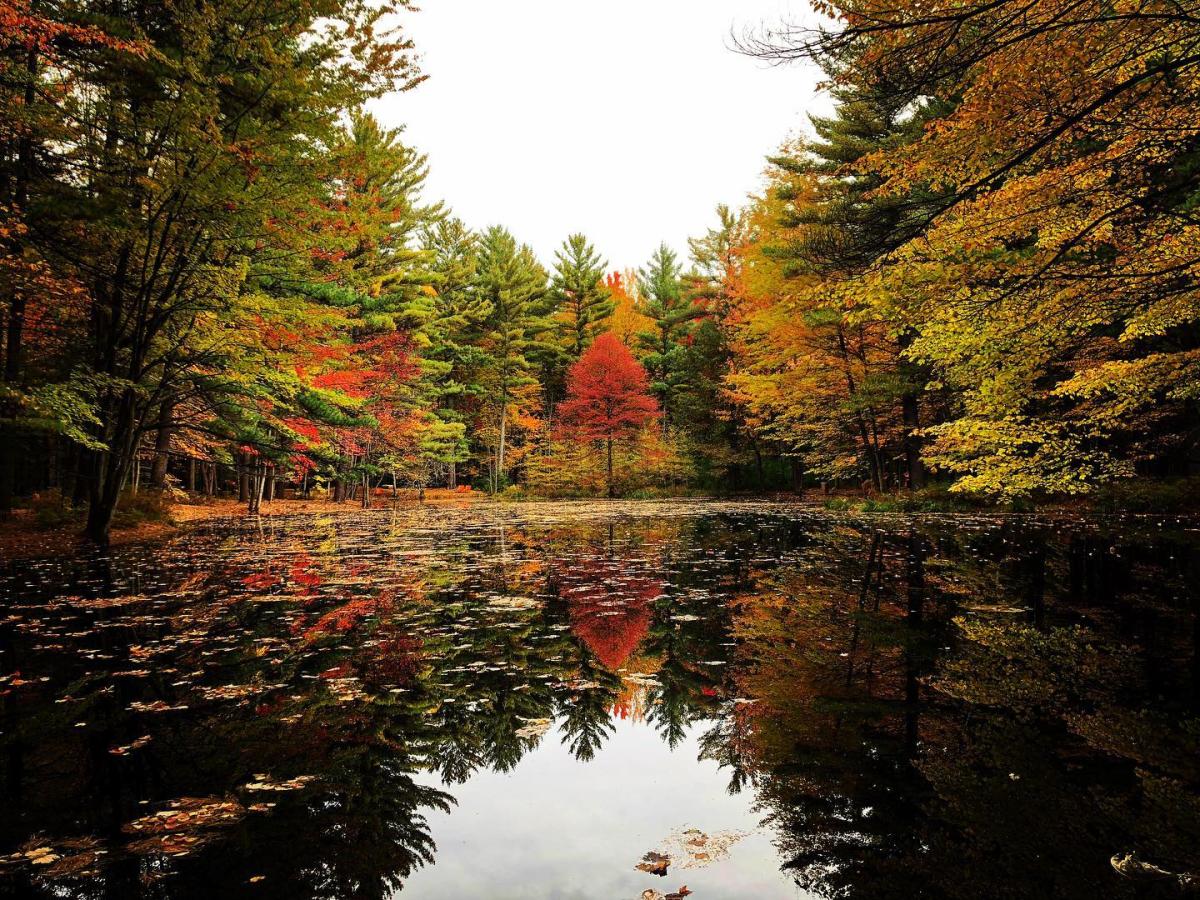 Photo: Whiting Forest of Dow Gardens by @michigan_made98
Deep crimsons, warm-honey golds, and vibrant greens: autumn sweeps our Pure Michigan landscapes in color you just have to see for yourself. And the only thing better than a slow-winding drive through it all? Heading straight here to the Great Lakes Bay for an even closer front-row seat!
So, when you're ready for leaf peeping that goes way beyond watching through a car window — and even takes you right up into the trees — pull on your favorite sweatshirt, pour some warm apple cider in a to-go mug, and head to these one-of-a-kind autumn color tour spots in the Great Lakes Bay!
For the chance to be completely surrounded by fall color and sparkling freshwaters, all you need is a ticket to board one of BaySail's Appledore tall ships! Offered in October and departing from Downtown Bay City, their Autumn Color Tour River Cruises come with all the added fall touches — like warm apple cider and fresh donuts served on deck!
Watch For: Fall foliage surrounding you on either side of the Saginaw River, and maybe even a few kayakers paddling by!
For a fall color experience that soars — four stories high in the forest, no less — look to the longest canopy walk in the U.S. at Whiting Forest of Dow Gardens in Midland. Peeking down at an autumn-tinted orchard from the glass-floored overlook or staring up at the trees from a cargo net tucked into a grove of spruces, suffice to say you've never seen fall color quite like this!
Watch For: Three unique arms to this Canopy Walk — a Pond Arm, Orchard Arm, and Spruce Arm — each ending at its own unique viewing platform.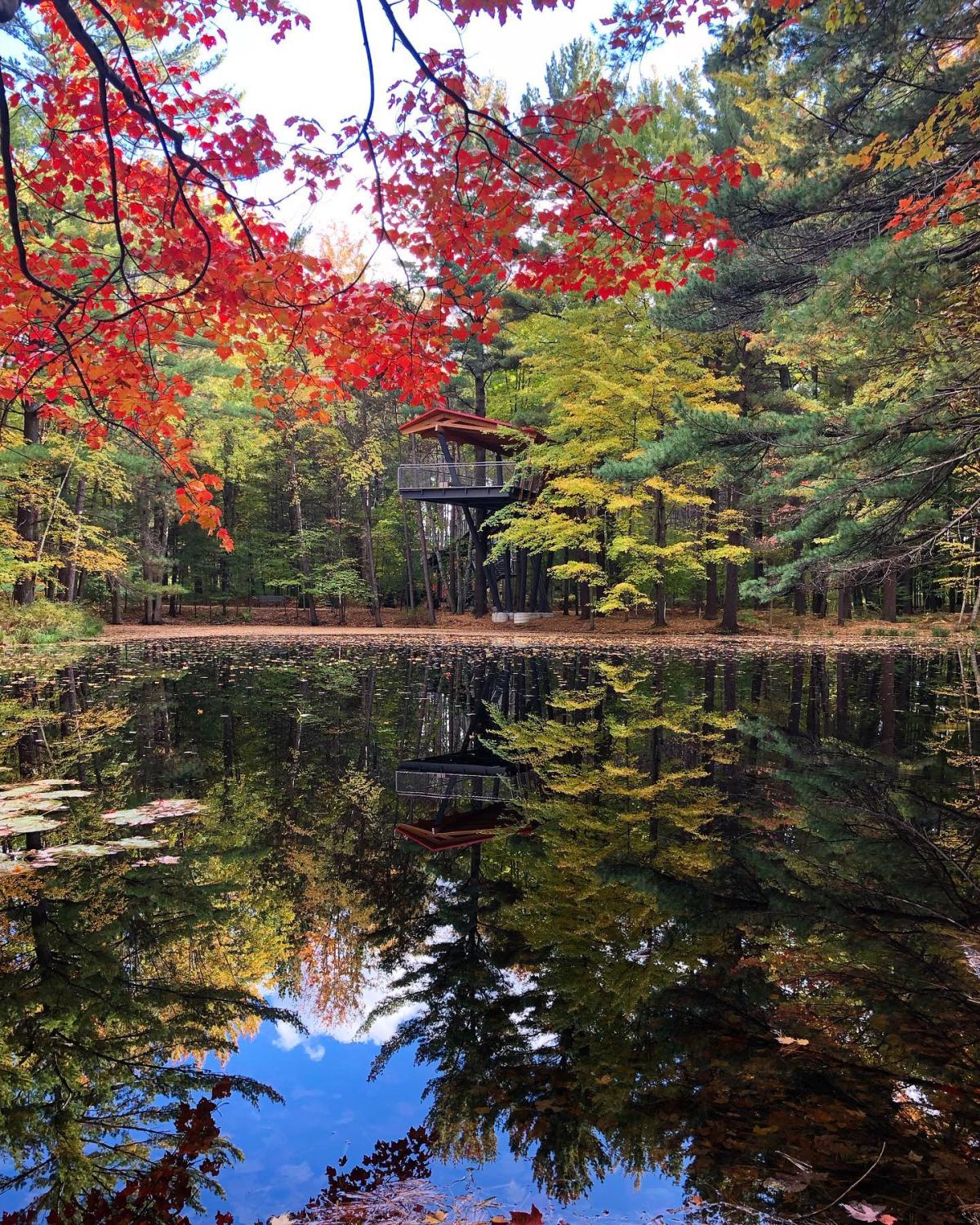 Photo: Pond Arm at Whiting Forest of Dow Gardens by @travelingmichigan 
Already dubbed the "Everglades of Michigan", our Shiawassee National Wildlife Refuge is even more breathtaking blanketed in fall color. And seeing it all while wildlife spotting with a guide who's been navigating these waterways his entire life? It's an autumn outing you'll never forget! Join Johnny Panther Quests to stay you've tried it.
Watch For: Deer drinking from streams right in front of you; wildlife from bald eagles to great egrets; and fall foliage all around as you fly by on a shallow-draft boat!
Winding along the outskirts of the Refuge, too, for a totally different experience — the 6.5-mile Wildlife Drive is a color-cruising route through the awesome wilderness, and one you can enjoy without ever getting out of your vehicle!
Watch For: Canada geese, great egrets, and abundant fall color around every bend.
For 19 miles of open-dawn-to-dark trails — woven through mature forests and wetlands bursting with fall foliage and wildlife — visit this hidden gem in Midland (that also happens to be one of the largest, private, non-profit nature centers in the country).
Watch For: An Arboretum that's home to more than 100 species of Michigan-native trees and shrubs!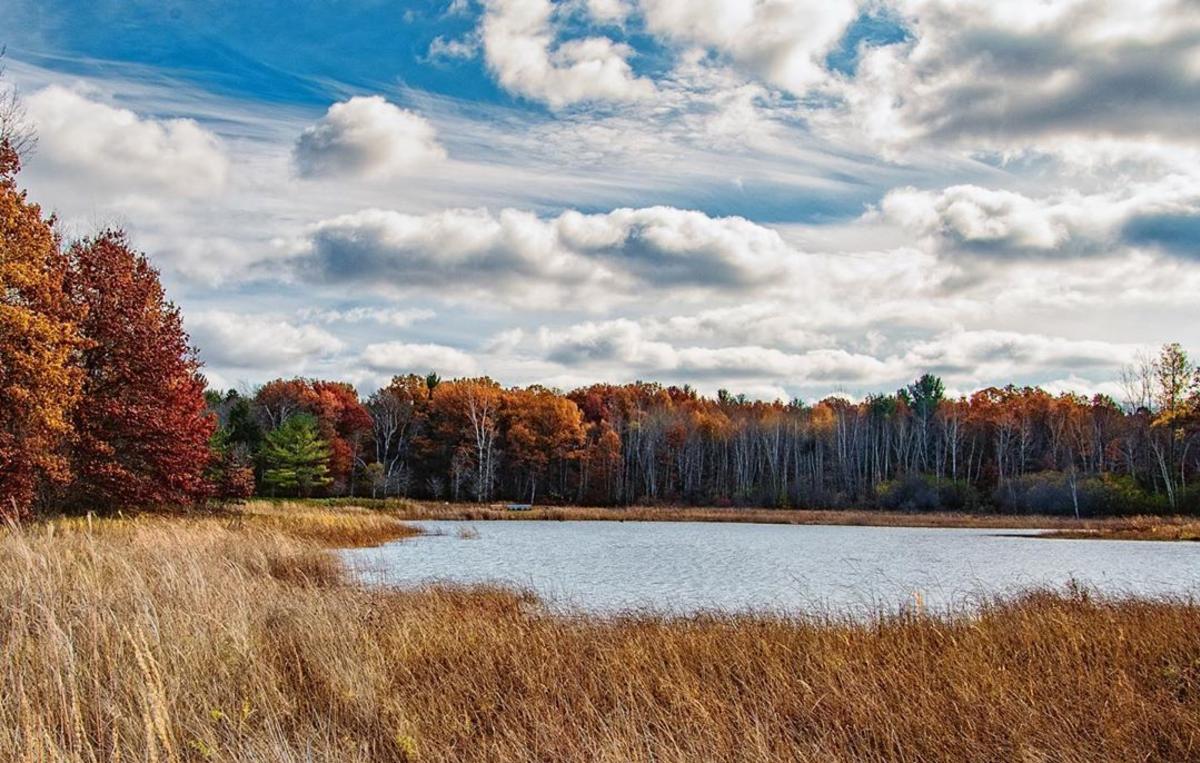 Photo: Chippewa Nature Center by @ninaneuschuetz
Stepping onto Bavarian Belle's 150-passenger paddlewheel riverboat, Bay City Boat Lines' excursion boats, or Frankenmuth FunShips' 12-passenger electric boats (where wine tasting's offered on board) — consider these guided tours your ticket to a fall color show from the water!
Watch For: Signature Bavarian rooftops along the Cass River in Frankenmuth, and sights like the towering Friendship Ring in Bay City's waterfront Wenonah Park!
A leaf-peeping excursion that'll whisk you right through the trees, this aerial adventure park in Frankenmuth offers six unique ropes courses for ziplining and climbing. Pause just long enough on each platform to take in the brilliant fall color — then release to feel the real rush as you zip through the shaded canopy of reds, golds, and greens!
Watch For: The fan-favorite FrankenZip course, with seven ziplines that'll have you zooming all over the forest!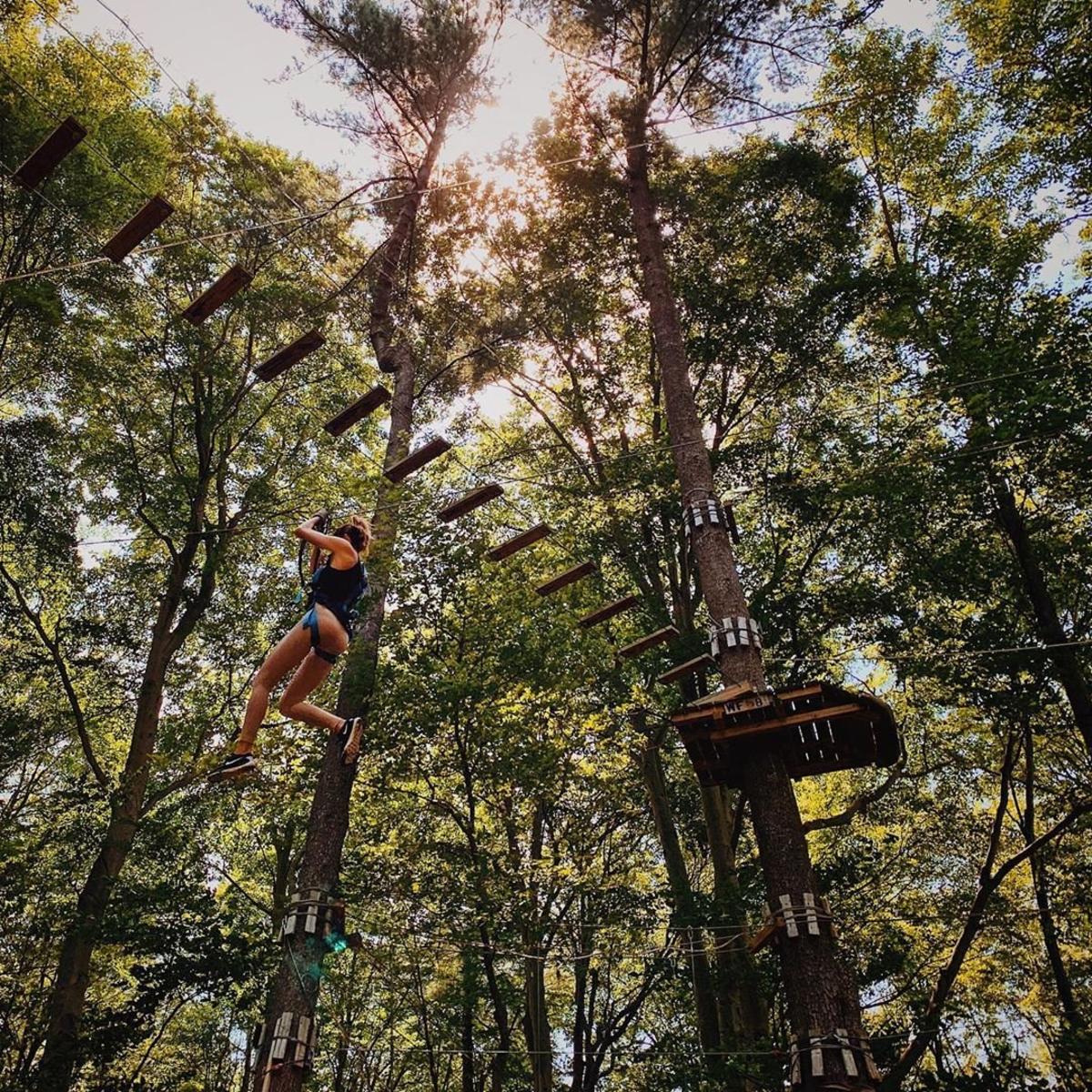 Photo: Frankenmuth Aerial Park by @ashsmithphoto
A different kind of color tour altogether, these multi-passenger trolley bikes will have you pedaling your way through Bay City (Sunrise) or Frankenmuth (PedAle) to take in fresh air and fall beauty — while sipping on whatever seasonal brews you brought on board!
Watch For: Plentiful harvest-time decorations throughout both downtowns!
Single or tandem, sit-in or sit-on kayaks: epic views of the autumn hues are the same no matter which style you rent! Find Float Paddle Center in Bay City, Frankenmuth Kayak Adventures in Frankenmuth, Ike's Mobile Kayak Rentals in Midland, or Cattail Kayak Rental in Pinconning to paddle with autumn's gorgeous palette as the backdrop!
Watch For: Iconic bridges you can kayak beneath — like the Holz Brücke in Frankenmuth or the Tridge in Midland!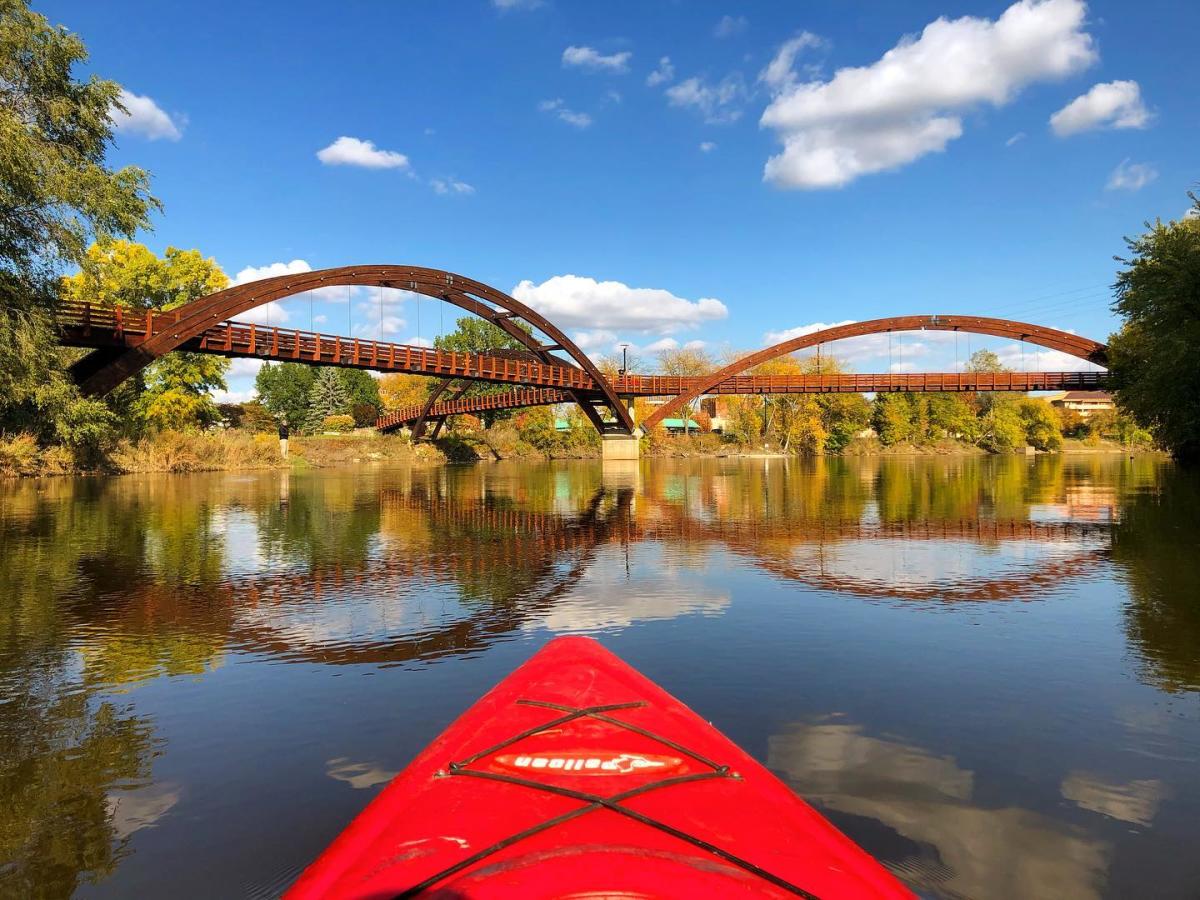 Photo: Kayaking near the Tridge in Midland by @puremichiganguy
A more traditional leaf-peeping route — to views that are anything but ordinary — set out to hike or bike any stretch of our almost-100-mile Great Lakes Bay Regional Trail. Or, watch for birds like bald eagles and egrets, warblers and terns (all amidst autumn's beauty) when you travel 142 miles of shoreline and surrounding lands along the Saginaw Bay Birding Trail.
Watch For: Pocket parks, fishing holes, and picturesque riverwalks along the way!
---
COVID-19 Update:
As we welcome you back, we'll be doing our best to keep you in the loop on what's open & closed in the Great Lakes Bay Region. Just look for the orange banners below on our partner listings as you start planning for your next trip!


While we all navigate this new normal, some experiences may be slightly different, and some businesses may only be partially reopened. Please check with the individual businesses for their reopening status, new hours of operation, and updated policies before visiting!
---